Helium Mobile Coming to Saga Phones in U.S.
Helium Mobile and Solana Mobile are partnering to bring the world's first cryptocarrier to Saga phones in the U.S.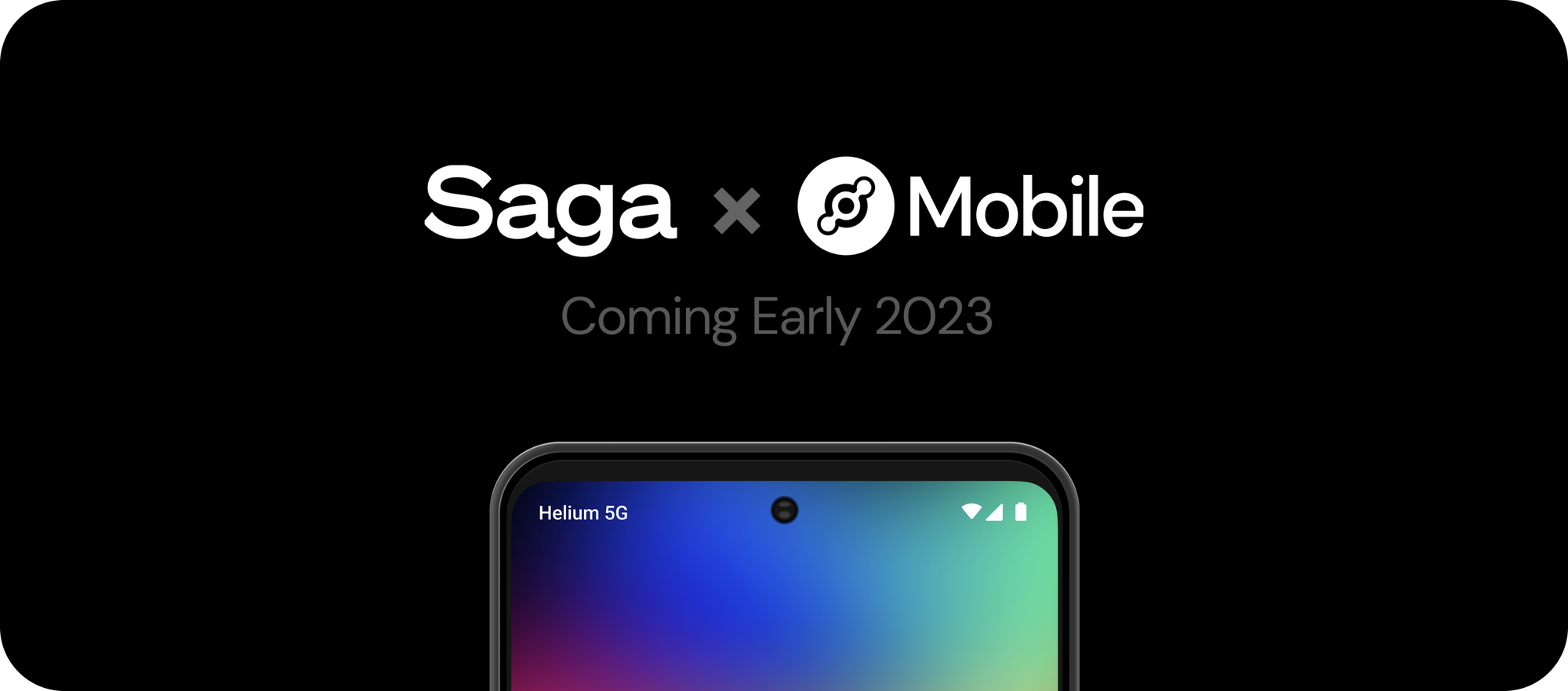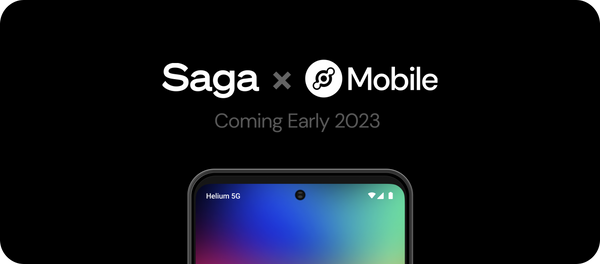 Ape into a better phone plan.
Announced today at Solana Breakpoint, Helium Mobile and Solana Mobile are partnering to bring the world's first cryptocarrier to Saga phones in the U.S.

With this partnership, Saga phone users in the U.S. will receive a free 30-day subscription to Helium Mobile with unlimited voice and text at the time service is available in 2023. As a subscriber to the first-of-its-kind service, Saga phone users will be able to seamlessly connect to the people-powered Helium 5G network and partner 5G networks nationwide.

Solana Mobile, a subsidiary of Solana Labs, introduced Saga, a flagship Android mobile phone, in June of this year. The device is tightly integrated with the Solana blockchain, making it easy and secure to transact in web3 and manage digital assets, such as tokens and NFTs. Saga will feature the Solana dApp store, a new marketplace for decentralized mobile apps, and Seed Vault, which helps protect users' private keys for safer transaction signing. Saga is designed and manufactured by OSOM, a leading Android development company whose team has extensive experience building computing hardware for Google, Apple, and Intel, among others.

Helium Mobile, the world's first cryptocarrier, uses an innovative mobile carrier model that leverages people-built coverage and cryptoeconomics to reduce costs and increase benefits for subscribers. Network builders in turn benefit from providing coverage. Any time a Helium Mobile subscriber connects to the local Helium 5G network, Helium 5G Hotspot owners will be rewarded with the MOBILE token for the coverage they provide. Since launching this summer, the Helium 5G network has rapidly expanded to more than 6,600 active small cell radios, adding 1,300 in the last 30 days across the U.S.
Helium Mobile is built on the belief that people should be rewarded for their contributions to a mobile carrier and its network – whether as subscribers, coverage providers, or both. And experiencing Helium Mobile on the Saga phone? A collab you won't want to miss.
Want to learn more?
If you're interested in learning more about Helium Mobile, sign up for the waitlist at hellohelium.com and stay tuned for updates as we get closer to launch. To get your hands on a Saga phone, head to solanamobile.com and place your pre-order.