Your Next Phone Bill Could Pay for Itself with MOBILE Rewards
Subscribers can earn MOBILE rewards for mapping the Helium Mobile Network. Now they can use those rewards to pay for their plan.

Helium Mobile subscribers can now pay for service using MOBILE rewards earned from Discovery Mapping.
Helium Mobile subscribers enjoy many benefits, including Dynamic Coverage, next-level privacy, and the opportunity to earn rewards right from your phone for helping to build the Helium Mobile Network. Starting today, you can use those rewards to lower your next phone bill to zero. Yes, $0.
Helium Mobile subscribers have the opportunity to earn MOBILE rewards by helping to build the Helium Mobile Network through the Discovery Mapping feature. You simply opt in to Discovery Mapping from the Helium Mobile App and can earn MOBILE rewards for your efforts just by going about your normal routine. This might not feel like much work, but this effort has an immense impact on building the Helium Mobile Network. You can keep the rewards, transfer them to another wallet that supports MOBILE rewards, and now you can apply these rewards to pay for your plan using the Helium Mobile app.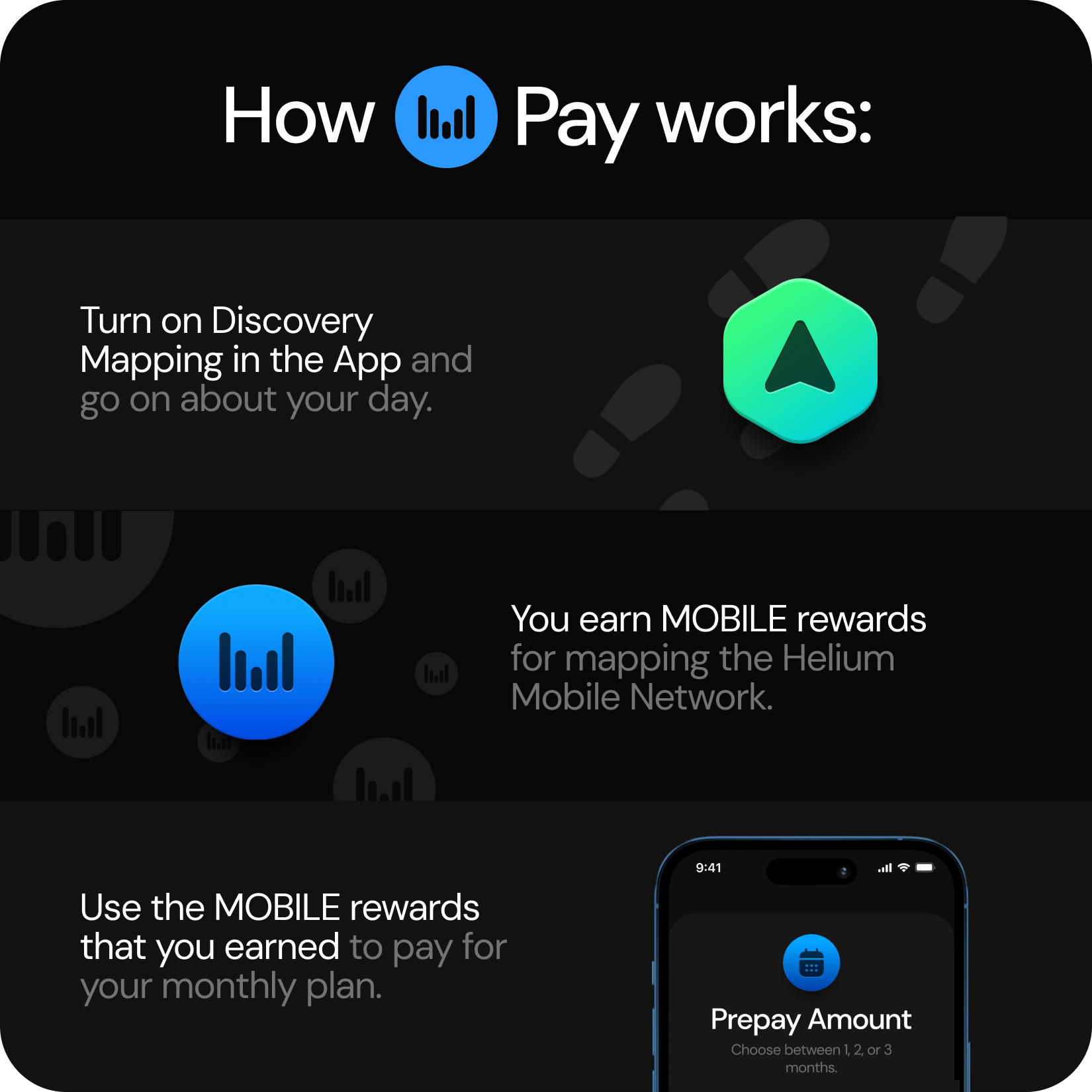 How it works
Similar to credit card points or a loyalty program at your local cafe or department store, you can use MOBILE rewards to pay for up to three months at a time of Helium Mobile service including taxes and fees. The Helium Mobile app displays how many months of your plan you can pay for with your current MOBILE rewards balance. After your prepaid period ends, your account will automatically switch back to the credit card on file.
Another step towards the future of mobile
While an increasing number of companies are seeing the value of accepting crypto as payment, Helium Mobile is the first that gives you the opportunity to both earn rewards for your efforts in building and improving the network and use those rewards to pay for phone service.
All of this is done in a way that is made simple for the subscriber. Paying with MOBILE enables you to benefit from the direct impact you're having on the network.
We've been transparent that expanding people-built coverage is essential for us to sustain and grow our revolutionary $5/month Unlimited Plan price. That's why participants in Discovery Mapping are rewarded for their efforts to help identify places where people-built coverage will have the most impact. Through your work we will be able to achieve our goal of a more affordable, connected future.

To start helping build the network and earn MOBILE to cover your next phone bill, subscribe to Helium Mobile today.
---
FAQs
If I turn on Discovery Mapping how many MOBILE rewards can I earn?
Helium Mobile Network service providers, including Nova Labs, do not issue token rewards to Helium Mobile subscribers. The Helium Mobile Network rewards Helium Mobile subscribers with MOBILE rewards in exchange for helping build the network via Discovery Mapping. For more information, please visit the Helium Community open source repository here.
What if I don't earn enough MOBILE rewards for a full month? Can I still apply it to my bill for just weeks or days?
At this time, pay with MOBILE supports payment 1, 2, or 3 full months. We do not currently offer partial month payments.
Can I prepay for longer than 3 months?
Currently 3 months is the maximum prepayment period. After 3 months you can select up to 3 additional months to prepay with MOBILE.
Can I share my MOBILE rewards to other Helium Mobile subscribers so they can pay their bill? Or can someone share their MOBILE rewards I can use to pay for my bill?
MOBILE rewards can be transferred to another wallet from the Helium Mobile App.
Can I use the MOBILE rewards earned from my Helium Mobile Hotspot to pay for my Helium Mobile plan?
Yes! You will need to transfer MOBILE rewards you earned from your Helium Mobile Hotspot or other Helium Mobile Network hardware to your Helium Mobile Wallet.
For more information about Helium Mobile Hotspot, check out the Helium Mobile Blog here.